It is our mission to explore what makes every one of those 65 municipalities special. We are moving in random order through the list, and the randomizer fates have chosen Unity Township for our second spotlight.Unity Township is one of the larger municipalities, located in central Westmoreland County with a population of around 21-22,000 individuals. The Loyalhanna creek forms a gentle north-east border close to the City of Latrobe, and various roads, streams, and other land markers enclose Unity Township. Students in Unity Township are served by the Greater Latrobe School District.The dominating industry for many years in Unity Township was coal mining, and evidence of that industry lives on in the names of various communities throughout, including Marguerite, Whitney, Hostetter, Beatty, and others.

The Arnold Palmer Regional Airport lives in Unity and serves as the air transportation hub for Westmoreland County. Patrons can enjoy views of the rolling hills around the airport when catching a flight to Florida or Myrtle Beach. The airport also hosts a yearly Westmoreland County Airshow, with the U.S. Navy Blue Angels often performing as the headline act!

For entertainment and recreation, you want to pay a visit to the Lincoln Highway Experience, a family-friendly museum and headquarters for the Lincoln Highway Heritage Corridor. Learn about the history of America's first transcontinental roadway, and enjoy a yummy slice of pie and cup of joe at the conclusion of your tour. The Kingston House, which hosts a portion of the museum, is on the National Register of Historic Places.

For outdoor fun, try out Glengarry Golf Links, one of the region's premier golf destinations.

It (almost) goes without saying that Saint Vincent College, founded in 1846 by Boniface Wimmer, is one of the must-see stops in Unity Township. Not only does SVC play host to the Pittsburgh Steelers for summer training camp, but the campus is home to the Archabbey Gristmill (the second Unity location on the National Register of Historic Places!), Saint Vincent Summer Theatre, the Winnie Palmer Nature Reserve, and the Fred Rogers Center. You'll want a full day—or more—to check out everything there is to do at Saint Vincent.

And speaking of Fred Rogers, Unity Cemetery, a solemn cemetery overlooking the beautiful farmland in Unity, is the final resting place for America's favorite neighbor.

Some hidden (and spooky!) gems in Unity Township include the Sisters of Mercy cemetery, located on the grounds of the former St. Xavier's Academy for Girls which was founded in 1847 and destroyed by fire in 1972, and Carr's Tunnel. This tunnel, often referred to as "Witches Tunnel" by locals, was built in 1856 as part of the Pennsylvania Railroad. The railway line has since been dismantled, and the tunnel abandoned.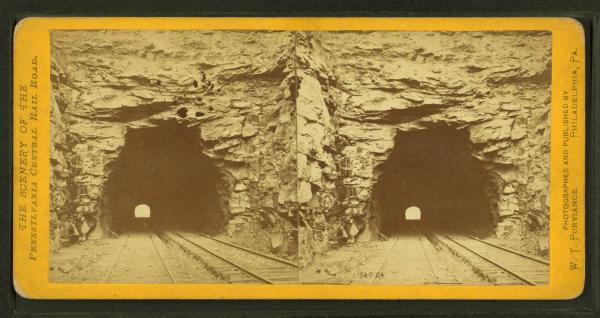 New York Public Library, Public domain, via Wikimedia Commons
Unity Township is rich with history, recreation, and many things for the interested local or visitor to explore!