WESTMORELAND COUNTY BOASTS 65 WONDERFULLY UNIQUE MUNICIPALITIES.
In Westmoreland County, you'll find a community that's the perfect fit for you. From the small community of Avonmore, to the bustling Murrysville, to the charming Ligonier, your perfect neighborhood is ready to welcome you home.
Housing options are diverse, with everything from apartments to condos, and small homes or sprawling estates. All offerings can be found anywhere on the spectrum from rural to urban, with options for planned communities with Homeowners Associations.
For information and contact with the Westmoreland County Housing Authority, please call 724-832-7248 or go to https://www.wchaonline.com/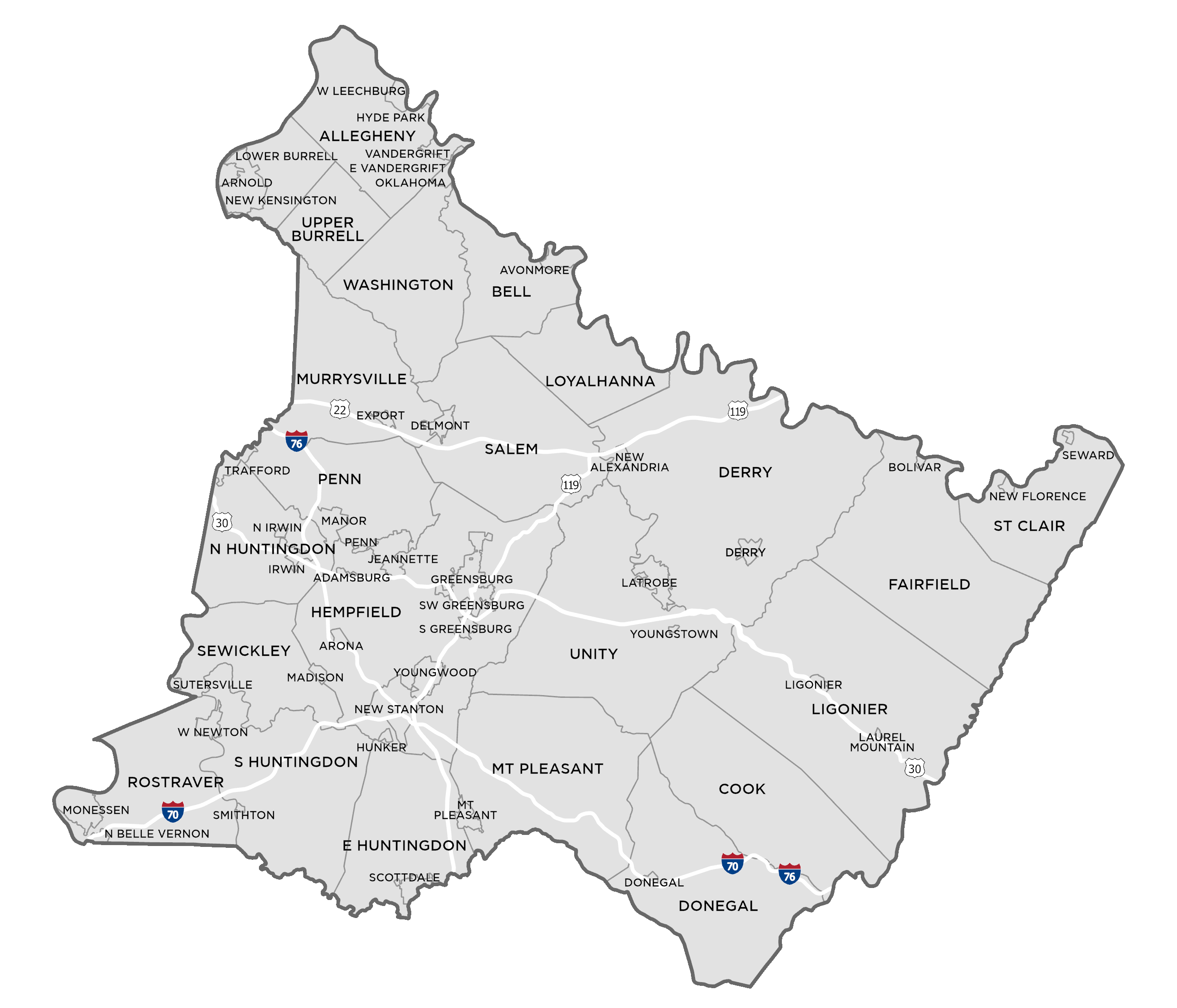 Adamsburg Borough
Arnold (City of)
Arona Borough
Avonmore Borough
Bolivar Borough
Derry Borough
Donegal Borough
East Vandergrift Borough
Export Borough
Greensburg (City of)
Hunker Borough
Hyde Park Borough
Irwin Borough
Jeannette (City of)
Latrobe (City of)
Ligonier Borough
Lower Burrell (City of)
Madison Borough
Manor Borough
Monessen (City of)
Mt. Pleasant Borough
New Alexandria Borough
New Florence Borough
New Kensington (City of)
Delmont Borough
North Belle Vernon Borough
North Irwin Borough
Oklahoma Borough
Penn Borough
Scottdale Borough
Seward Borough
Smithton Borough
South Greensburg Borough
Southwest Greensburg Borough
Sutersville Borough
Trafford Borough
Vandergrift Borough
West Leechburg Borough
West Newton Borough
Youngstown Borough
Youngwood Borough
Allegheny Township
Bell Township
Cook Township
Derry Township
Donegal Township
East Huntingdon Township
Fairfield Township
Murrysville (Municipality of)
Hempfield Township
Ligonier Township
Loyalhanna Township
Mt. Pleasant Township
North Huntingdon Township
Penn Township
Rostraver Township
Salem Township
Sewickley Township
South Huntingdon Township
St. Clair Township
Unity Township
Upper Burrell Township
Washington Township
New Stanton Borough
Laurel Mountain Borough